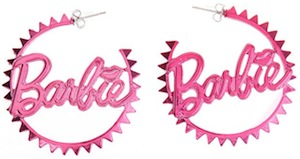 Are you a Barbie kind of girl?
If so then maybe it is time to have some Barbie jewelry.
This set of hoop earrings would be perfect. The earings are pink and have a metal base and the Barbie logo can be found in the middle of the pink hoop and it even has the Barbie lips above the I.
And the hoops are not just smooth hoops no these Barbie earrings have spiky hoops.
The hoops of the Barbie eaarings are 1 1/2 inch in diameter making them the perfect size so that they will not interfere with your head movements and still look fun.
Come and have a closer and better lookg at these Barbie Pink Hoop Earrings.