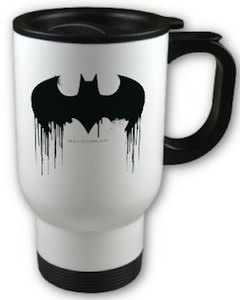 If you want / need a Batman travel mug for you morning coffee then this could be the mug to go for.
This mug comes in white and chrome and shows a spray painted bat logo on it that was not completely dry and started to run. Of course it's not really not dry it's just a look so don't worry when you get one of these you don't have to worry about getting bat paint on your fingers.
This stainless steel travel mug is great for in the car and in the office because now people see that Batman is your friend and that gives you some kind of super powers.
And the cool bat logo is printed on both sides of the mug so your friends will always see it.
Stop drinking that old coffee go get your fresh coffee out of this Batman Wet Paint Travel Mug.