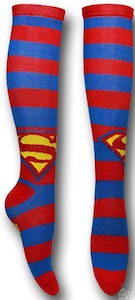 We all know that Superman the man of steel wears blue and red and now we can all start to wonder if he wears these Superman socks.
These knee high socks are striped red and blue and have the Superman logo on them to.
And they come in one size fits most so that even an real superhero could wear them.
These socks are great to keep you warm on cold days and are great to show you legs on shorts and skirt days.
Superman fan unite by wearing your Superman Striped Knee High Socks.