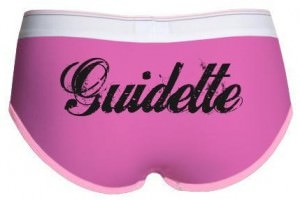 So you want to be a Guidette just like the girls on Jersey Shore.
Here is a good start, get into a pair of these Guidette women's underwear they are a boy brief style and have a large printed "Guidette" on the back of them. You can find these Guidette briefs in pink, white or red and they are made from 95% Cotton, 5% Elastane.
The Jersey Shore Guidette women's boy briefs are also super comfortable with the elastic waistband and trim and are form fitting, they come in sizes Small, Medium, Large and Extra Large.
Get into your Jersey Shore Guidette Women's Boy Brief.