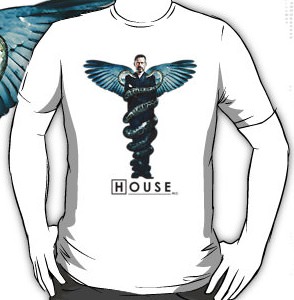 House MD fans will love this t-shirt.
This t-shirt shows Dr. House captured in a Caduceus symbol (the symbole of medicine) the two serpent snakes are wrapped around Gregory House's body and the wings alsmost make him look like a strange angel.
Ans below this amazing picture of house it also has the House MD logo.
I don't think there is any better t-shirt that shows of Doctor House like this one.
And this t-shirt of House comes in a wide range of colors and different styles for men and women.
Time to check out all your options come see the House MD Caduceus T-Shirt.