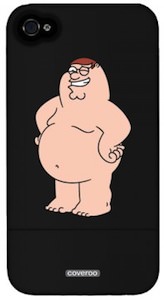 A true fan of Family Guy may like this case and if you don't like Family Guy then maybe you like it because it shows a naked Peter Griffin.
Yes all naked but not offensive and Peter even gives you a wink.
And they put this picture of Peter Griffin on a phone case for the following devices:
iPhone 3G

iPhone 3GS
iPhone 4
iPhone 4S
Motorola Droid X
Coveroo makes these cases from quality polycarbonate so that your smartphone will be protected from harm.
Come and have a closer look at this Family Guy Nake Peter Griffin Phone Case.