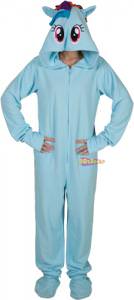 When it is time to relax and kick back in the clouds you need to do it pony style, Rainbow Dash style to be exact.
This is a really cool set of footie pajamas that feature the fun high flying pony Rainbow Dash from the TV series My Little Pony, they are the soft blue color of Rainbow Dash that has an awesome feature of a big face on the hood and the colorful mane and ears sticking up.
You can find these My Little Pony Rainbow Dash footie pajamas in a huge variety of adult sizes, they will be super warm as they are made from a durable and soft warm material.
Cozy into your My Little Pony Rainbow Dash Footie Pajamas.