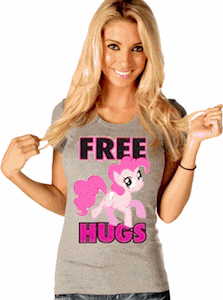 This may be a grey t-shirt but the pink pony on it makes it stand out.
And yes this is a My Little Pony t-shirt and it has Pinkie Pie on it to prove it.
Besides the picture of Pinkie Pie the t-shirt has the words "Free Hugs" and that makes it the perfect shirt for someone who like to hug, or it makes the perfect gift to give by someone who likes a hug.
The My Little Pony free hugs t-shirt comes in a range of junior sizes from small – X-large and it is made from 100% cotton.
Bring some love in to peoples lives by wearing this My Little Pony Pinkie Pie Free Hugs T-Shirt.