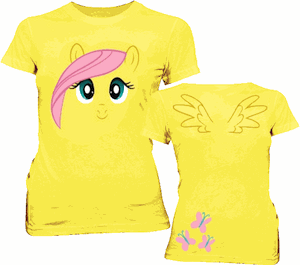 This yellow t-shirt has on the front the face of Fluttershy complete with her pink hair.
And on the back this My Little Pony t-shirt has wings and the cutie mark of Fluttershy 3 pink butterflies.
If you like My Little Pony then you will be pretty happy with a nice t-shirt like this.
And this t-shirt women's junior fit so that it will look amazing on you.
The sizes go from small to X-large and shirt is a polyester cotton blend to make it feel great an make it stretch nicely.
Come and check out this My Little Pony Fluttershy T-Shirt.