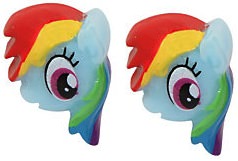 Rainbow Dash is one of those ponies that brings some color in our lifes.
And now this My Little Pony is available as jewelry.
You can now get some fun colored earrings that look just like Rainbow Dash.
These Rainbow Dash earrings are shaped and colored just like the real Rainbow Dash and that makes it fun to wear and it will bring some color to your life.
My Little Pony earrings are that one piece of jewelry that will stand out but in a fun way.
So don't hesitate come and get your My Little Pony Rainbow Dash Earrings.