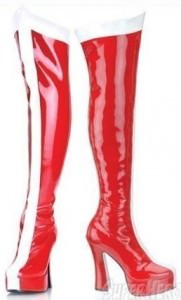 Do you want to be just like the cool DC Comics superhero Wonder Woman?
Well with these awsome Wonder Woman boots you can literally take one step closer to the Amazonian Princess, Wonder Woman the greatest female superhero.
Made from patent leather with a 5 inch heel and outstanding high glossy super shiny finish, a white stripe on red background is what makes this the perfect Wonder Woman boot. Dress this boot up for any occasion or add it to your Wonder Woman costume.
Get your Wonder Woman Boots.
You may also like: