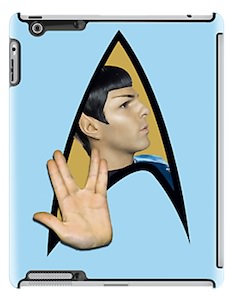 Star Trek fans who need their iPad's protected are in luck as this case is so cool.
The iPad case is availible for the following models:
iPad mini (COMING SOON)
iPad 2
iPad 3e generation
iPad 4e generation
And the iPad case is light blue just like the costume of Spock and on the case you see the Star Trek symbol and inside that there is a picture of Spock and then there is the hand making the famous Live Long And Prosper sign.
This Star Trek iPad case can survive some scratches and bumps and will keep look amazingly.
And of course Spock insisted that all the ports and buttons of this iPad case would be availible for use without the need of removing the cover.
This Spock iPad case can even be used with the Apple Smart Cover.
So if you like this iPad case then come and check out the deals of this Star Trek Spock Live Long And Prosper iPad Case.