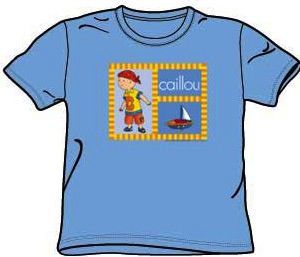 There we have Caillou all dressed for a day at the water.
As you can see Caillou brought his sail boat to play with in the water. And yes the boat and Caillou sare in a square and then there is one that just says Caillou.
This all is printed on a light blue preshrunk 100% cotton t-shirt.
And this t-shirt is availible in a wide selection of kids and toddler sizes.
So if you know a kid that like Caillou then suprise them with this Caillou Set Sail T-Shirt.