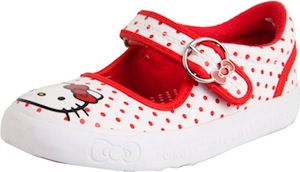 Kids deserve fun and good shoes from the day they get born.
And that is why you should have a look at these comfortable and super cute Hello Kitty shoes from Keds.
These shoes come in a wide range of sizes starting at 4M (toddler) going up t0 12M (little kid).
The shoes are white and have red polka dots all over them and some fun Hello Kitty details.
On the top of the shoe you see Hello Kitty's face and then on the side of the sole you find a bow an the strap buckle has a fun little red bow on it as well.
These quality kids shoes are made from leather and have a rubber sole.
Start your kids life off with a good pair of shoes like these Keds Hello Kitty Toddler And Kids Shoes.