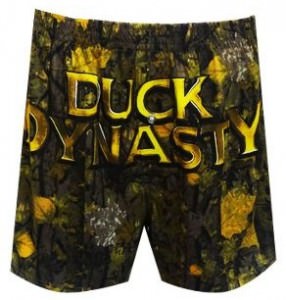 The awesome, hilarious and catchy television series Duck Dynasty and Duck Commander now has some pretty cool underwear that you too can own.
This is a pair of Duck Dynasty boxer shorts that are decorated in fall camouflage foliage colors of brown, gold and green, also on the front is a large title saying "Duck Dynasty".
These men's boxers are available in a wide variety of sizes these Duck Dynasty boxer shorts also have a functional button fly, elastic waistband and will be super comfortable as they are made from 100% cotton.
Put on your fall camo with these Duck Dynasty Boxer Shorts.