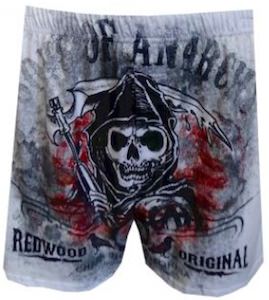 Sons of Anarchy fans in need of some new underwear should take a closer look at these boxer shorts.
These boxers are grey and made from 100% cotton and they have a worn look print on it.
With the Reaper logo in the middle surrounded by text that says "Sons of Anarchy Redwood Original".
The SAMCRO boxers even red stains on it.
You can this Sons of Anarchy underwear in sizes Small – X-Large.
So if you need a fresh pair of underwear then come and get some Sons of Anarchy Reaper Logo Boxers.