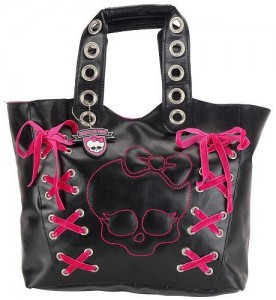 Monster High is where all the ghouls, monsters and zombies go to school and many of the cool ghouls sport some pretty awsome and fashionable accessories like this Monster High tote bag.
The tote bag has the official Monster High logo, a very stylish looking skull with a bow and eyelashes stitched on the front of this black faux-leather bag aswell as some trendy and cool hot pink velvet lace. You will also get a Monster High rubber charm attached to the handle.
Made from durable fabric and and lining to hold up for lots of use, the main compartment has a snap button to close and there is a very convenient inner zipper pocket compartment. With big carry straps this bag is 11 x 17 x 4 inches and can easily turn into your favorite bag that goes everywhere.
Get your Monster High Lace Up Tote Bag.