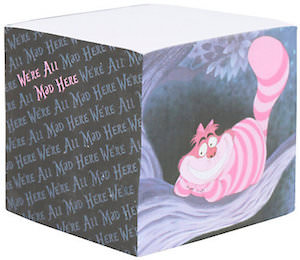 Notepad's are great but if you need a small piece of paper to leave a note on or to give a note on for someone else then it becomes annoying.
But now there is the Cheshire Cat memo cube that offers 700 sheets of paper and that makes it perfect for on any desk or kitchen counter.
And on the side of this memo cube you can find the Cheshire at and the text "We All Mad Here".
Alice in Wonderland fans will really like this memo pad and will be sad to see if shrink when used but still it is an amazing thing to own.