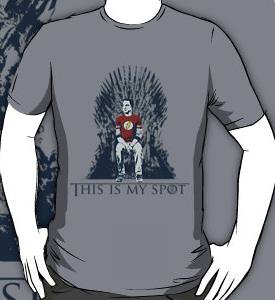 This is a classic t-shirt that takes two awesome TV series and crosses them together resulting in one cool t-shirt.
This is Sheldon Cooper from the Big Bang Theory and as Big Bang Theory fans know he needs to choose the perfect spot and when found you better not sit in his spot.
Find Sheldon sitting in the famous iron throne from the TV series Game of Thrones, with fine details of the throne and of course a classic DC Comics superhero t-shirt of Flash is what Sheldon is wearing.
Made from 100% cotton this t-shirt will be very durable and last a long time, also very comfy. It is available in very huge selection of sizes, colors and styles.
Check out this cool mash up with the Game of Thrones The Big Bang Theory This Is My Spot T-shirt.