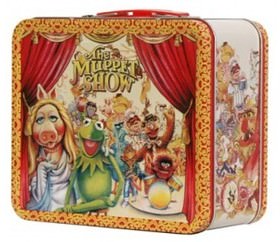 The classic Jim Henson television series The Muppet Show has so many fun and loveable characters it is no wonder that it is a favorite show amongst many.
This is a great collectors lunch box for The Muppets fan, features Miss Piggy and Kermit the Frog at the front of the famous Muppet Show red curtain with many other cool Muppets in the background like Animal, Fozie Bear, Gonzo, Beaker and many many more on the front of this tin lunch box.
Made from tin this is a durable lunch box with amazing quality images of all your favorite Muppets, it is also ready to use with a solid handle and lock clasp take your lunch or snacks to go.
Collect your The Muppet Show Lunch box.