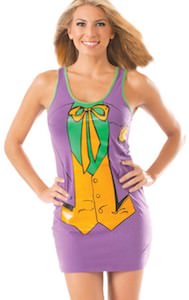 Always wondered how it feels to be the villain from the Batman stories?
This tank top style costume dress will make you look like a sexy version of The Joker.
Of course the dress is purple and on that you can find details printed to make it look just like the suit The Joker wears.
This dress is just fun for everyday or even Halloween or a Batman themed party.
You can get this women's Batman dress in size Small, Medium and Large to make it fit the villain in you perfectly.
Get ready to party bad guy style in this Batman – The Joker Costume Dress.