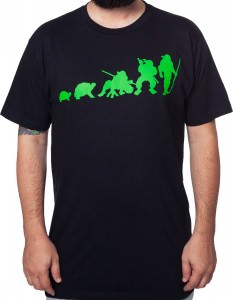 Turtle power! The turtles came from somewhere and now you can show their progressive evolution.
On the front of this black t-shirt you will see the chart of evolution only this time it is the chart of evolution for turtles. Find bright green silhouettes starting with a small turtle and growing upright to a green silhouette of a Teenage Mutant Ninja Turtle.
Made from 100% cotton to give you that perfect soft and comfy shirt while at the same time very durable to last you a long time. Available in a wide selection of sizes that range from Small to 3XL so everybody can show off the true evolution of the Ninja Turtles.
Get into the Teenage Mutant Ninja Turtles Turtle Evolution T-Shirt.