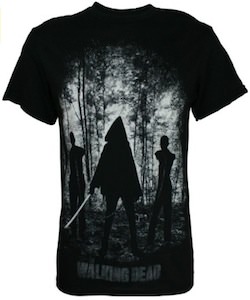 The Walking Dead fans will love this t-shirt as it shows one of those classical scenes of the show where Michonne walks through the woods with her two walkers chained behind her.
And the shirt is black making the scene more like we seen it on TV. The black makes the light in between the trees come out nicely.
Below this nice picture it says Walking Dead. And all of this is done by screen printing.
This Walking Dead t-shirt is made from 100% cotton and comes in a wide selection of adult sizes from Small to – 3XL.
Show the world what you like about Walkers by wearing this The Walking Dead Michonne's Walkers T-Shirt.