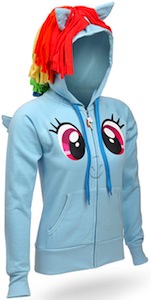 If Rainbow Dash is your favorite pony then you are in luck as this hoodie is almost like being Rainbow Dash.
This thoodie is in Rainbow Dash blue and has the curious eyes of Dash.
But that is not all this My Little Pony hoodie has more. On the flank there you will see the cutie mark of Rainbow Dash and as this is zipper hoodie they even included a cutie mark zipper pull.
But that is not all. On the back of the hoodie there are wings like a true My Little Pony but unfortunatly you can't use them to fly.
Then the hood this one has ears and rainbow mane just like Rainbow Dash has.
And this hoodie comes in range of adult sizes so get ready to become a pony.
Come have a closer look at the other pictures of this My Little Pony Rainbow Dash Hoodie.