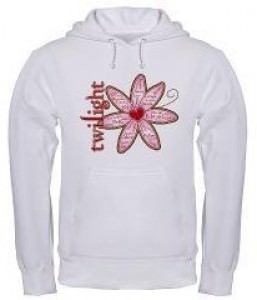 The Twilight Saga, the most magnifcent and magical vampire movie series to hit the big screen.
This hoodie features "Twilight" printed vertically on the front and a large flower with many of the movie characters names and special dates and locations written on the pedals. Made from 90/10 cotton/polyester blend this is a super soft hoodie and very warm, also the waistband and cuffs have a spandex trim to help seal out the cold. You can find your Twilight hoodie in white or grey and in sizes Small to 2XL.
Get your Twilight Hoodie.