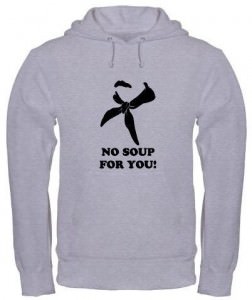 No soup For You!
A classic line from a classic television series. This quote is from Seinfeld, this is just one of many awsome hillarious quotes seen on this comedy show.
The Seinfeld hoodie says "NO SOUP FOR YOU!" across the chest underneath an image of a chefs tie and can be found in white or grey, and sizes Small to 2XL. Also this is a very durable hoodie made of 10.1 oz. fabric in a 90/10 cotton/polyester blend, and spandex cuffs and waistband.
Get into your Seinfeld No Soup For You! Hoodie.