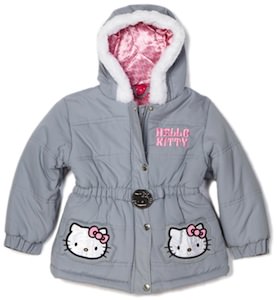 Cold and winter days makes you long for a nice and warm winter coat.
If your kids like Hello Kitty then they could like a jacket like this.
This grey jacket has lots of Hello Kitty details like on the pockets and in big pink letters the words "Hello Kitty" on the top and there is even an Hello Kitty belt buckle on it.
Besides being mainly grey the jacket has a fun pink lining to bring out some color.
The winter jacket comes in sizes 4 – 6X and will be warm all winter long.
Come and shop for your daugthers new Hello Kitty Winter Jacket.