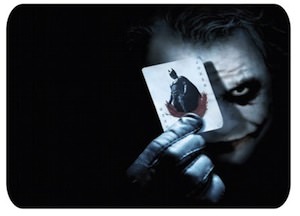 This mousepad is 8 x 9.5 inch and shows the Joker against a completly black background.
It all looks a bit spooky but that makes this Batman mousepad so special.
You just see the face of the Joker and his gloved hand that holds a Joker playing card with a picture of Batman on it.
A mousepad like this can just not be missing in a Batman collection as it looks so great.
Come have a better look at this Batman The Joker Mousepad.