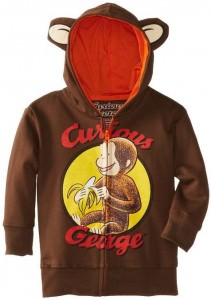 If you have a preschooler who is a mischievous little monkey then this is the perfect sweatshirt.
This front of this brown hoodie has a screen-printed large yellow circle with Curious George sitting in front of it. He is holding a banana, ready to eat it.
The hood has little ears near the top and it is lined with orange fabric.
The word "Curious" is written in cursive above Curious George and the word "George" is written below him, both in orange letters to match the hood lining.
This very soft 100% cotton hoody zippers up the front and comes in toddler sizes 2T, 3T and 4T.
Keep your child happy and warm in this Curious George Childs Hoodie.