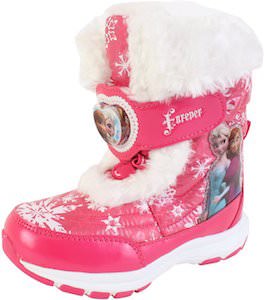 When cold and snow arrive you want to make sure you kids wear the right footwear that keeps them dry and warm.
If the kids like Frozen then you may want to look at these pink winter boots.
The winter boots comes in a wide range of toddler and kids sizes and are covered in white snowflakes and have fake white fur on the edges and close with velcro so that the kids can put them on themselves.
And yes of course Anna and Elsa can be found on these boots to. There is a big picture of the Frozen sisters on the side and a heart shape one on the front strap and that one even lights up.
Now you can get ready for winter with these Disney Frozen Anna And Elsa Pink Snow Boots.