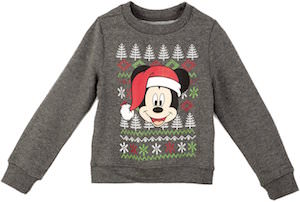 This Christmas sweater is for the little boys in the family.
On this sweater you can see the typical Christmas symbols like trees and snowflakes in the background and then on top of that a big picture of the head of Mickey Mouse and yes he is wearing a Santa hat.
This Mickey Mouse Christmas sweater is available in sizes T2, T3 and T4 and will make a little kid really happy this Christmas.
Now even the little once can enjoy an ugly Christmas sweater and it's all thanks to Mickey Mouse.
The sweater is made from 60% cotton and 40% polyester and that results in a super soft fleece that kids are gone love wearing.
Get the kids dress for Christmas in this Disney Mickey Mouse Christmas Sweater.