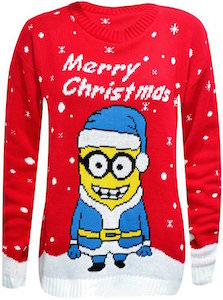 There are all those amazing looking ugly Christmas sweater for adults but kids often don't have any nice once.
But that is gone change because now there is an amazing looking Minion Christmas sweater for kids.
This sweater comes in red, green or grey and shows snow flakes all over and the bottom part is white from the snow and then  of course there is a big minion in blue Santa clothing and above that it says "Merry Christmas".
You can get this Minion Christmas sweater in sizes 5 – 12 years and it's made from 80% acrylic and 20% cotton.
Make your kids happy with their Minion Christmas sweater.