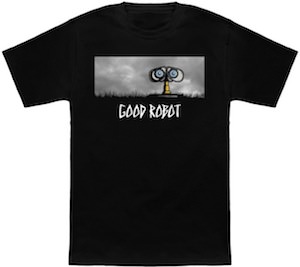 Do you remember Wall-E?
The cute robot left all by himself to clean the planet of garbage. Wall-E is a cute and good robot who does what is asked of him and to remember him for that there now is this t-shirt.
This t-shirt shows the top of Wall-E and below that the words "Good Robot" Wall-E's piercing eyes staring at you.
And this Wall-E t-shirt comes in men, women's and kids versions in all kind of sizes to make the whole family find the perfect size.
A black t-shirt like this can show the world that you didn't forget the helpful robot.
So why wait come and get your Wall-E Good Robot T-Shirt.