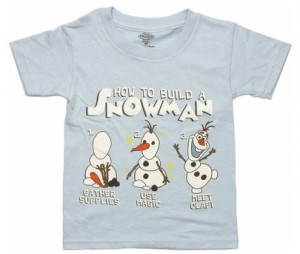 The movie Frozen has become a hit with all the children and adults across the globe. Olaf may be the best character in that movie and now you can bring him home to your little one with this t-shirt on How to Build a Snowman with Olaf. They will love it!
Olaf is here to help! He wants to help your little one learn to make a snowman. The wording on the top of the t-shirt is "How to Build a Snowman" in white. Then there are three pictures with 3 titles. The first picture shows you need to "Gather Supplies" with some twigs, carrot, coal and 3 balls of snow. Next you need to "Use Magic" and put the pieces in the right spot. Lastly "Meet Olaf" with his great smile and spirit.
This cute light blue t-shirt will be a hit with your little one. It comes in three sizes, 2T, 3T and 4T. It is made from 100% cotton and it is screen printed with an official Frozen graphic.
Let us learn to have some fun in the snow with the Build A Snowman With Olaf T-Shirt.