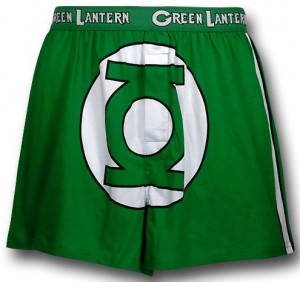 The Green Lantern, you can guarantee that under his stretchy superhero suit he is wearing a cool and comfortable pair of these Green Lantern boxer shorts.
Show your passion and support for your favorite DC comics superhero the Green Lantern with these 100% cotton boxer shorts that feature a huge Green Lantern logo on the front and white stripes down the sides, also the elastic waist band has "Green Lantern" printed around multiple times. Found in many different sizes.
Get your Green Lantern Boxer Shorts.