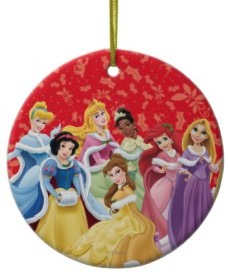 Kids love the princesses from the the Disney stories and with Christmas they ofcourse need to be there to.
Now you can have a nice round ceramic princess tree ornament.
On this Christmas ornament you can find the following princesses:
Cinderella
Snow White
Belle
Ariel
Rapunzel
Aurora
Tiana
All these lovely princesse are dressed for the holidays and even the background is nicely decorated in Christmas style.
This ornament is flat and has the same picture on both sides.
Suprise the kids with this Disney Princesses Christmas Ornament.