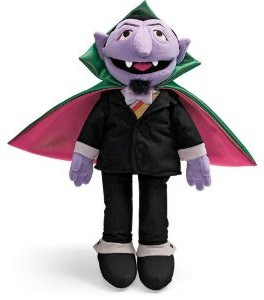 1, AH AH AH, 2 AH AH AH, 3 AH AH AH!
4, check out this awsome Sesame Street  "The Count" 14 inch plush doll made by the number one trusted makers of plush dolls Gund.
This Count plush doll is all dressed up in his famous black suit and satin cape and really has great details making it stand out. He looks like a real vampire just like Count Dracula. This Count stands 14″ and the perfect addition to a collection or a perfect companion for play and bedtime.
Get your own Sesame Street The Count Plush Doll.