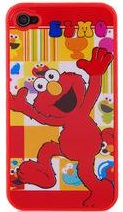 You got one of those amazing iPhones but how do you protect them from harm?
Simple get a case. And of course you want a nice case so look at this one.
It's red and it is Sesame Street themed with Elmo printed big on the back.
And to not only protect the back of you new iPhone 4S or iPhone 4 they will give you a free screen protector for the front.
So now you will have a red iPhone all protected from harm.
Lets make this an even sweeter deal this set cost just over 4 dollars and that includes world wide shipping.
So lets get Elmo ready for you iPhone by ordering this Sesame Street Elmo iPhone 4 / 4S Case.