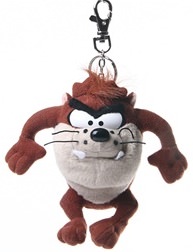 There we have Taz the Tasmanian Devil from the Looney Tunes cartoons.
This time Taz is a bit more easy to handle as they chained him to a key chain.
And this Tasmanian Devil key chain is made of 100% cotton and comes with a key ring and clip so that you can use it with your keys as zipper pull or as bag decoration.
If the Tasmanian Devil is your Looney Tunes character of choice then come get your Looney Tunes Taz Key Chain.