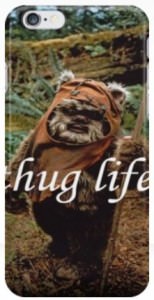 Star Wars fans will be all over this awesome phone case, you know the cool little creatures Ewok's that are in the Star Wars movies now they are here to help you protect your precious device.
On this iPhone case you will find the cute little Ewok with the fuzzy fur holding it's walking cane and of course the hooded cloth. The fun part is you do not want to mess with the Ewok as you will find the saying "Thug Life" written across the case aswell.
This case is available in the Apple products as follows:
iPhone 6 Plus
iPhone 6
iPhone 5s
iPhone 5c
iPhone 5
iPhone 4S
iPhone 4
Each case is made specifically for it's device leaving you access to all ports and buttons while also helping protect from scratches and dents.
Protect in style with the Star Wars Ewok Thug Life iPhone Case.