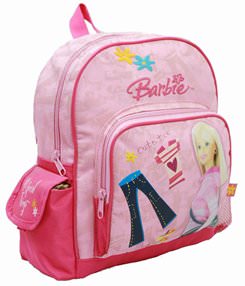 Kids love Barbie and if you show them this backpack they will love it to as it is a Barbie backpack.
It is not a huge backpack but great for kids to take to daycare, school and play. There is plenty of room for their Barbie dolls and more. There are two main pockets with zippers and a side pocket to.
The backpack is made in two shade of pink and has the Barbie logo on it and a picture of a Barbie doll and clothes.
If your kid like dolls then they will love this Barbie Kids Backpack.