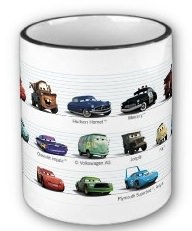 This is a real nice mug specially great for getting it to you kids when they get to the age that they can use a real mug.
If you kids like Cars then this is the mug to get them because this mug has the whole lineup of all the characters of the movie Cars on it.
A great gift to give or get with all those cool cars on it they will have hours and hours of fun with it.
Check out all he pictures of this Cars Lineup Mug.