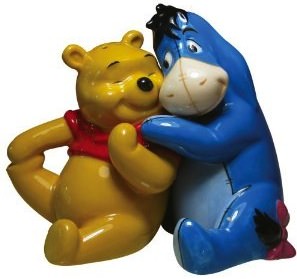 Winnie the Pooh and his good friend Eeyore where the models for this cute salt and pepper shaker set.
This set shows Winnie and Eeyore hugging and no worries they will keep doing that when you get this set.
Why? Simple Pooh and Eeyore have magnets in them so that when you put them together they will hug each other.
So with a salt and pepper shaker set as cute as this you should still watch you sodium intake and just look at the salt.
Time to dress up your dinning table with this Winnie The Pooh And Eeyore Salt And Pepper Shaker Set.