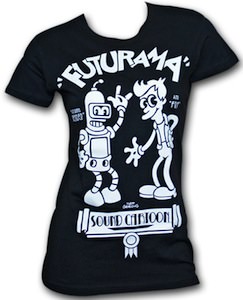 The women can be happy as they can get this special Futurama t-shirt.
On this t-shirt you see a cartoon version of the cartoon characters Bender and Fry. And they are in a dancing mood.
Beside the cartoon you also have the word "Futurama" on top and "Sound Cartoon" on the bottom.
And this women's t-shirt comes in a range of sizes and will make any Futurama fan stare.
So don't hesitate come check out this Futurama Sound Cartoon T-Shirt.