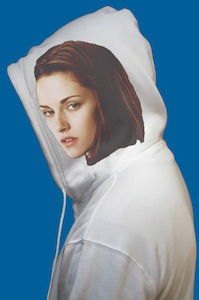 Bella Swan can now be part of your waredrobe.
This hoodie witch comes in 7 differen colors shows the face of Bella on the hood and yes of course on both sides. So when people see you walking on the street with you hood on they are gone think that you are Bella Swan from the Twilight movies.
Besides having Bella's headshot it also comes with a big print on the back and this one you can choose for a list of options. There is forinstance the Cullen crest and the Twilight logo.
Bella and Twilight fans go have a better look at this Bella Swan Hoodie.