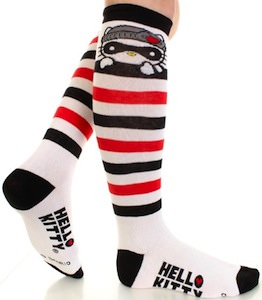 Hello Kitty is not always nice and cute, sometimes she becomes a real bandit.
And the Hello Kitty Bandit that is what you see on these knee high socks.
These Hello Kitty socks show the Hello Kitty Bandit on top and strips from top to the ankle where it becomes white with black toes and back and the word "Hello Kitty" on the side / bottom.
The Hello Kitty socks are made out of a Cotton / Nylon / Spandex mix and are one size fits all.
If you like some nice adult sizes Hello Kitty socks then come check out these Hello Kitty Bandit Striped Knee High Socks.