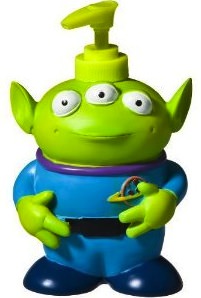 Toy Story fans recognize this alien right away.
So I am sure that your kids will to.
This 3 eyed alien is a soap dispenser and can hold the liquid soap that you want your kids to use to wash their hands.
As expected this Alien came original from Pizza Planet and where kids eat pizza kids get dirty hands so wash them with the help of one of the fun Toy Story characters.
When bathroom time comes around you should have this liquid soap dispenser ready because then your kids will love to wash their hands.
Come and get your own Toy Story Alien Soap Dispenser.