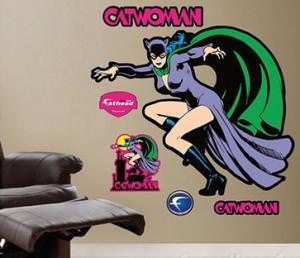 Are you a classic DC Comics collector, and love Catwoman ?  If so you may want to check out this.
A life size wall decal of Catwoman, find Catwoman in her long dress superhero outfit and a big green cape to go along with it, also the sharp dagger like claw nails and of course the Catwoman mask is unmistakeable.
The Catwoman wall decal measures 5'5″ W x 4'6″ H and has other cool Catwoman wall decals included in this package, one smaller Catwoman in action over top the city scape, two small pink decals that say " CATWOMAN " and two different Fathead logos.
Don't worry too much about placement either, this classic Catwan life size wall decal is easy to move without leaving any sticky residue and will stick to any smooth surface.
Add a life size MEOWWW! to any room with the Catwoman Classic Life Size Decal.