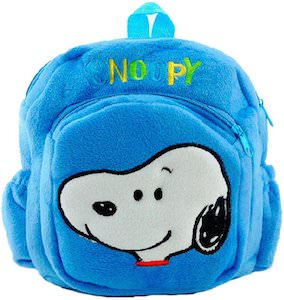 Your kid is gone love this backpack.
It's not a huge backpack but it is a Snoopy backpack.
This Snoopy backpack is 26 x 24 x 8 cm and just great for kindergarten or a visit to the grandparents.
The backpack is blue and furry and soft and comes with two zipper compartments and yes it has Snoopy on it to.
On the top you can see "Snoopy" in letters and below that a big white dog face of Snoopy.
Kids will love this backpacks and adults will be sad that it doesn't come in their size.
Make a kid happy with a fun backpack for school and play. Lets get them this Snoopy Kids Backpack.
You may also like: