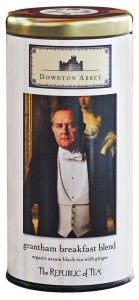 Sit down, have a cup of tea and a cookie and watch your favourite TV show, the British period drama Downton Abbey.
Of course, the tastiest tea to drink while watching this worldwide hit comes from The Republic of Tea.
This tea is an organic Assam black tea infused with organic ginger that can give an invigorating start to your day or keep you on your toes for the rest of the day.
This Grantham Breakfast Blend tea comes in containers of 36 tea bags and is gluten, sugar and carb free and is Kosher certified. And of course the tea container shows Lord Grantham on the front so that you know what kind of tea you are consuming.
Next time you host a Downton Abbey party be sure to serve tea made from The Republic of Tea Downton Abbey Tea Bags.