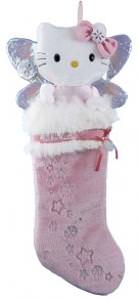 Hello holidays !!!!
This is a great christmas stocking for the Hello Kitty fan, find a soft pink stocking with white fluffy trim and a very cute Hello Kitty plush head sticking out of the top.
With a pink bow that has a snow flake on it and Hello Kitty has a set of angel wings and wand making an adorable christmas holiday stocking.
Measures 23 inches long an is very durable, this stocking will be perfect to stuff full of fun gifts at christmas.
Get your Hello Kitty Plush Head Stocking.