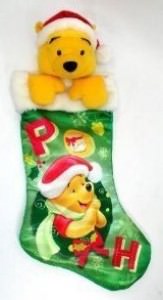 Winnie the Pooh a favorite and classic Disney character, so much loveable qualities Pooh is just like a big warm hug on a cold day.
This is an awsome christmas stocking for the Winnie the Pooh fan, made from a super soft plush material this stocking measures 22 inches and features a plush Pooh peeking out the top of the stocking wearing a Santa hat.
Get your Disney Winnie the Pooh Plush Stocking.