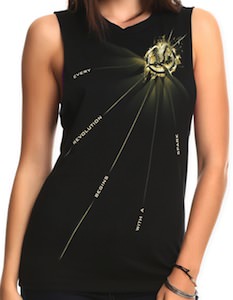 A true Hunger Games fan always want a new t-shirt based on this series.
And now there is this special Catching Fire t-shirt for girls.
The shirt is black and does not have sleeves and then there is the front.
On the front of this Hunger Games t-shirt you can see a gold colored Mockinjay on fire and from there sparks shoot out over the front and they have text connected to it and if you read that together it says "Every revolution begins with a spark".
And this Hunger Games Catching Fire t-shirt is made from 100% cotton and comes in sizes X-Small to X-Large.
Now is the time to shop for Hunger Game merchandise so come have a closer look at this The Hunger Games Catching Fire Revolution T-Shirt.