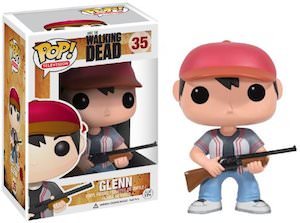 There we have Glenn from the Walking Dead and he looks like we seen him in the first season of the Walking Dead.
Glenn Rhee is made out of vinyl into a fun figurine that is great to add to any Walking Dead collection.
This Walking Dead figurine is about 3.75 inch tall and looks stunning and that while it is not a picture reproduction.
Glenn wears the same hat we have seen wear for a while and he brought a riffle to keep the walker at bay.
Just imagine having a complete collection of Walking Dead figurines that would be a great way to keep the walkers away.
Come and check out this The Walking Dead Glenn Figurine.