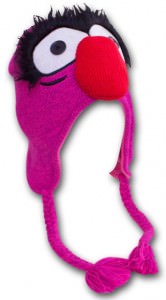 Animal a cool and crazy character from The Muppets.
This is an Animal beanie hat that features the cool head of Animal right on your own head when you put it on, with his big red nose, huge eyes and tuffs of black fur.
A great looking hat will get some attention for sure and this Muppets Animal beanie hat is not just for looks it is super comfortable and very warm. Huge ear pieces and a draw string will keep that painful chill away.
Get your The Muppets Animal Beanie Hat.