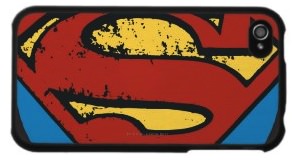 Apple makes great phones and that doesn't come to any once surprise. But now we found a way to make a great phone even better. To make an Apple iPhone better you will have to give it super powers.
And yes that is what you can do with this iPhone case for the Apple iPhone 4. This case shows a vintage looking closeup of the Superman logo and that of course means that your iPhone now has a part of Superman's powers.
One of them is that now the back is protected from falls and scratches. The Superman case is made by Speck and that even adds to all the super powers this case has.
If you are looking for super power and like Superman then you should check out this Superman Logo iPhone Case.