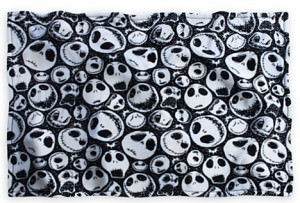 The Nightmare Before Christmas is a wonderful animated film that came out in 1993. Even though Jack is a skeleton, we find him endearing and can't help but like him. Now he wants to cuddle with you.
Black and white is all you really need for a great soft throw. This throw features many Jack Skellington faces with many different expressions. Even Tim Burton probably curls up in this throw in bed.
This fleece throw is made of 100% polyester and measures 40 inch wide by 60 inches length. One great feature of this throw is that it has a nice, black satin bow to tie it up at anytime.
Curl up right away when you get your Nightmare Before Christmas Fleece Throw Blanket.