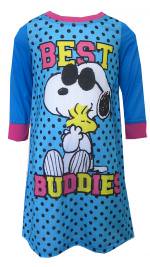 A fun night shirt for the kids that like Peanuts.
This shirt is blue and has a picture of Snoopy and Woodstuck hugging on it and the words "Best Buddies".
This night shirt is great for kids and that is why you can get it only in kids sizes.
And at this moment it comes in sizes 4 – 8.
So if your kids need new pajamas then check out this Peanuts Snoopy And Woodstock Best Boddies Night Shirt.