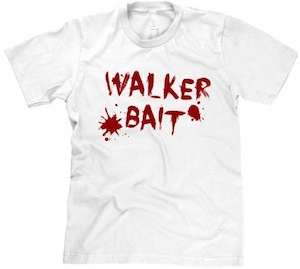 We all know that we will be zombie bait someday and if you are a fan of the Walking Dead then we call those brain dead creatures walkers.
And to mark all of us that are not taken to the zombie side yet there now is this t-shirt that clearly says "Walker Bait" so that the walkers can easily find us to get it over with as soon as possible. And to make it a bit more dramatic the writing on this shirt is in red with some splatters and that makes you wonder is it blood or not….
This Walker Bait t-shirt comes in a wide range of styles for toddlers, kids, men and women.
So mark the bait by wearing this The Walking Dead Walker Bait T-Shirt.