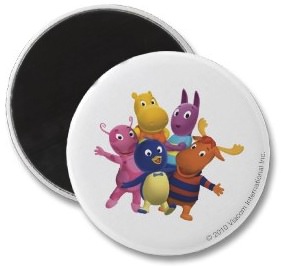 Here are all your friends from TV yes here are all you favorite Backyardigans.
This magnet shows you Austin, Pablo, Uniqua, Tyrone and Tasha on a nice magnet that will stick on anything metal. It would look nice on the fridge or maybe you locker at school or anything else you can think of.
And this Backyardigans magnet comes in different sizes to and if you don't like round then there is a square one to.
Have a closer look at The Backyardigans Magnet.